Heightened social media usage, the emergence of new sales channels, and evolving customer preferences are rapidly driving a shift to a new style of retail.
To illustrate how quickly the retail landscape has changed, let's consider a real-life example. I recently was in the market for a new television. While years ago I might have paid a visit to my local electronics store, this time I went online to research which television might be best for my needs, reading everything from consumer reports to reviews from other television buyers. Once I had decided on a brand and model that aligned to my needs and budget, I visited a favorite online retailer to see if they carried it (they did) and at what price. Before adding it to my cart, I checked the customer reviews and comments for red flags, as well as visited a few competitive sites to ensure I was getting the best pricing. Once satisfied, I completed my purchase in a few clicks using my saved billing and payment information, and the television was delivered to my front door in two days.
The digital age of retail has created a new breed of consumer that is highly empowered, informed, and connected. Gone are the days where customers went through the buying process while talking to a sales associate in a brick-and-mortar store. Now, our interactions with retailers take place primarily over digital mediums, and we expect an experience that is fast, convenient, and personalized.
As I researched, evaluated, and executed my television purchase, that online retailer was hard at work collecting data about me as a customer. How many TVs did I view before deciding? How long did the whole process take me, from start to finish? What accessories or complimentary products might I need for the television I'm buying?
The massive amounts of data that we produce as consumers is presenting both valuable opportunities and tremendous challenges for today's retailers. Big Data analytics are enabling retailers to extract valuable insight that helps them drive more targeted marketing efforts, increase sales, and deliver seamless omnichannel experiences. However, it's also causing volumes of structured and unstructured data to accumulate, leaving many struggling to properly integrate, analyze, and convert it into customer intelligence.
The 2016 Retail and Consumer Goods Analytics Study found that retail analytics are still being used primarily for "basic" analytics and reporting capabilities, with only small percentages of companies reporting that they use analytics for investigative or predictive purposes.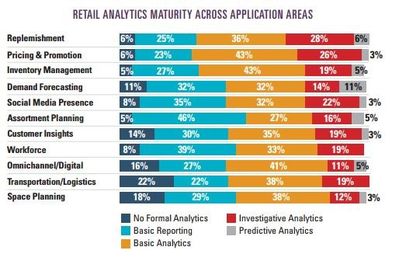 This means that retailers are barely scratching the surface of their data's potential to uncover customer insight. However, a few key steps can help retailers harness their data and transform the way they interact with and serve their customers:
Invest in a real-time operational and transactional system – Real-time customer data can help inform marketing decisions, forecast product availability, and provide immediate responses to customer inquiries, which is virtually impossible if data resides on disparate systems.
Implement a Big Data strategy – Retailers need a best-in-class strategy to help them collect and manage mountains of customer data. Look for ways to extract insight at every customer touch point, automate the data collection process, and continually feed intelligence back into the system.
Consider object-based storage – Particularly for enterprises that manage large amounts of unstructured data, object storage can help build lower-cost storage architectures and achieve massive scalability for accommodating current and future customer data growth.
Big Data is a disruptive tool for the retail industry, and every company must become a technology company if they wish to survive in today's highly competitive marketplace. Today's retailers must adopt new digital business models and convert customer data into intelligence in order to drive sales, increase loyalty, remain relevant, and enhance customer experiences.
Originally published on Hewlett Packard Enterprise