Retailers Benefit from Data Storage in the Cloud
In this digital age, retailers must continuously learn, adapt, and evolve to remain relevant, and the ability to harness vast quantities of data is crucial to success. As online and physical locations process thousands of transactions and service countless customers every minute, building an effective storage strategy is key to operating and competing in the retail marketplace.
Massive data growth is prompting today's retailers to move increasing amounts of data to the cloud in order to capitalize on the cloud's immense storage capabilities and constant availability. By investing in revolutionary cloud technologies, retailers can leverage Big Data to generate sales, reduce operating costs, and improve customer relationships. However, brands operating on legacy systems with limited storage capacity run the risk of missing out on a valuable influx of information as data remains ineptly stored and underutilized.
According to a survey conducted by the Harvard Business Review, nearly 54% of cloud adopters experienced major improvements to their business models after implementing cloud technologies. However, more than one-third of respondents have not transitioned to the cloud because they believe it would be difficult to manage and require extensive collaboration between IT departments, engineers, and operations.
Yet there are few storage technologies that can both flexibly and cost-effectively accommodate the surge of retail data. The cloud enables brands to quickly store, analyze, and enact on pertinent customer information to cater products and services to customer trends, create a more personalized shopping experience, and boost revenue. In a 2015 report, the National Cybersecurity Institute found that 84% of respondents had increased cloud usage in the past year in order to heighten security and operational efficiencies.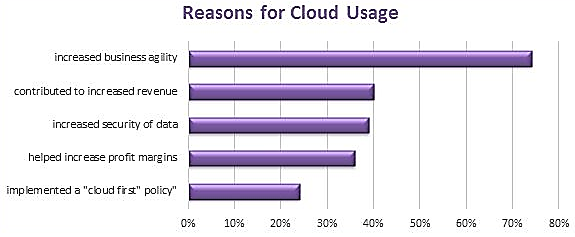 Source: National Cybersecurity Institute, 2015 Report
Cloud-based data storage offers several competitive advantages in terms of improving the efficiency of operations and increasing productivity:
24/7 database access. All data can be accessed anytime, anywhere, and on any device. This promotes simpler analysis of customer trends, real-time project updates, improved collaboration between representatives, and an enhanced shopping experience.
Automatic backup. Data loss or outages can cost retailers millions in lost revenue. A recent Ponemon Institute study found that brands lose an average of $5,000 a minute during an outage. Automatic backup features sync valuable data to devices across the network, protecting brands from everything from theft to hardware failure.
Reduced spending on software infrastructure. Software as a Service (SaaS) solutions lower the demand on IT departments and the need for expensive hardware. Cloud storage provides robust security and monitoring, data optimization, and simplified management services, affording retailers the peace of mind that sensitive customer information is protected and profitable.
As the amount of retail data skyrockets, brands are relying more and more on the flexibility, scalability, and cost-effectiveness of the cloud. Combining cloud storage and Big Data analytics allows retailers to exploit reliable, real-time access across all channels, fuel data-driven decision-making from the C-Suite to the sales floor, and allocate IT resources to heightening the customer experience.
In the constantly-evolving world of retail, brands are striving to get the most out of their data in order to quickly innovate and engage customers. Cutting-edge, cloud-based infrastructures will enable retailers to improve storage capabilities, enhance data management practices, and satisfy the rising demand for data storage. Retailers who do not invest in these transformative technologies are putting themselves at a dangerous disadvantage.
When it comes to collecting and utilizing actionable data, choosing the right storage service is an absolute must. With the most competitive retailers already reaping the benefits of cloud technologies, it's only a matter of time before the industry transitions completely.